Follow this format to ensure your script uploads successfully.
All lines that start with Sym: belong to either the Customer or Coach Sym. The trainee does NOT speak these lines.
Ensure there are NO images or extra characters.
Bolding the keywords in this file is optional but recommended to help you during the Add Keywords step. Bolding them in this Word document does NOT automatically make them keywords in the platform. You will still have to manually add these keywords by clicking on the Add Keywords icon.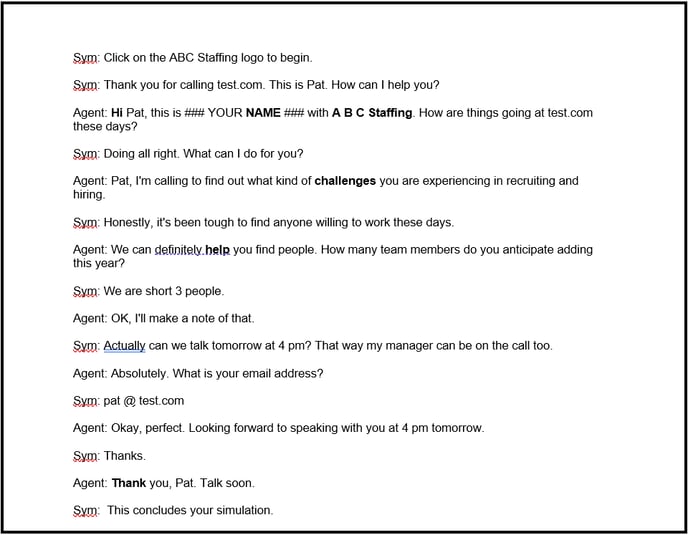 -
SC0.1
1. Word script* (.docx or .doc format)
Clean, simple text only
NO images or special formatting
Two characters (Sym and Agent work well)
-
BP1.1
INTRODUCTION TO CONTENT
Sym Introductory lines - These are script lines that provide instructions to the learning. Keep them short. If they're more than 2 sentences, consider making them a Sym Overview video instead. Long introductions annoy trainees because they have to listen to them every.single.time they run the sym.
-
BP1.2
MAKE "THIS CONCLUDES YOUR SIMULATION" THE LAST LINE
This gives trainee sense of closure.
-
BP1.5
SYM SIZE
Keep syms to under 5 minutes if possible! Long syms cause "sym fatigue" (trainees get tired) AND take a long time to load. If any of these describe the sym you've built, please consider breaking it into multiple shorter syms.
Take more than 5 minutes to run
Have more than 20 screenshots
Have more than 50 script lines